Although Gmail has gained a lot of popularity, it is not the only email service available. It's possible that your needs may be better served by switching to a different email service for reasons of privacy, data security, and so on.
We've compiled a list of some of the best alternatives to Google's Gmail, along with our thoughts on how they stack up against Google's offering.
10 Best Free Gmail Alternatives
All of the email providers mentioned in the article were evaluated. These alternatives to Gmail are just as secure, and some even provide more functionality. To that end, let's investigate some viable alternatives to Google Mail.
1. Best for Security: ProtonMail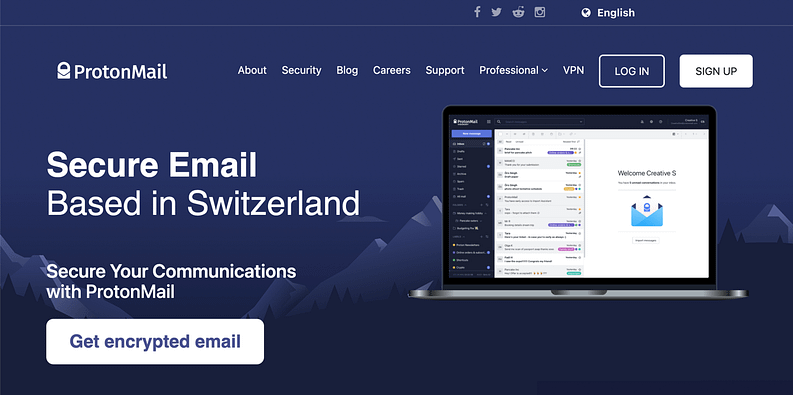 Since CERN developed the service, you can rest assured that your privacy will be well-protected; this makes it a great choice for those who value their personal security above all else. Both a paid and a free version are available, with the latter's lack of advertising being its most appealing feature.
The base plan includes 1 GB of storage, which is more than sufficient enough for all of your correspondence. You can upgrade to a more expensive plan with more storage and customization choices if you need more space.
Pros
- Extremely safe.
- Free choice.
- Use-friendly.
Cons
- Paid services offer the most options.
- Free services offer limited customer assistance.
2. Best for Space: GMX Mail
GMX Mail is a popular alternative to popular email services like Gmail and Hotmail, and one of its primary selling points is its commitment to privacy and security. Filters prevent unwanted spam from getting in, making secure email communications more reliable.
The best part about this well-known mail service is that we have limitless storage for our emails, and we can even send attachments of up to 50 MB in size, which is really good compared to other free services. Also, it has a mobile app that we can use to log in to our account, so there is that.
Pros
- Lots of room for storage.
- Allows you to upload large files.
- Mobile apps.
Cons
- No secret code.
- You have to give more information than with other services.
- Several ads.
3. Best for Sensitive Content: Hushmail
This well-known email account is advertised as a way to keep your information safe. In reality, its use has grown, especially in the health field, as a way for patients and health professionals to talk to each other.
It uses OpenPGP open-source standards to encrypt messages and SSL/TLS connections, which protects data from random people, advertising agencies, and spam.
Not only that, but this well-known email service, Hushmail, also lets you use different alias email addresses to hide your real address. All of this is possible in the same service. It also lets you send messages with sensitive information that are protected by a password to people who don't have a Husmail account.
Pros
- Transmits encrypted emails
- Allows for custom domain names.
- Allows you to sign documents with ease.
Cons
- It's too much for most people.
- Sadly, it comes at a cost.
4. Best for iOS users: iCloud Mail
Do you own an iPhone or a Mac? Having signed up for a number of different services, you probably already have an iCloud email account. The iCloud.com website may not be the most spectacular, but it's free, easy to use, and convenient. 
The user interface is extremely user-friendly because it resembles a stripped-down version of Gmail. That simplicity extends to its features, which don't do anything beyond the very minimum required.
Even while the free iCloud storage of 5 GB is very small, it's a good starting point. Since it's compatible with any Apple product you own, setting it up is a breeze. If you own an Apple device, this is the best spot to begin the process of switching email providers.
Pros
- If you use an Apple product, you probably already have an account.
- Practical and simple to use.
- Free.
Cons
- Unfortunately, Android users cannot access this feature.
5. Best for Personalization: Mail.com
With its long history and innovative customization options, Mail.com has earned a place among the industry's most trusted brands. That's because there are so many different domains available to use as an email address. 
You are not limited to a.mail.com address. Fun alternatives include elvisfan.com, graduate.com, and techie.com, all of which allow you to express your individuality online.
While many people may get by with the free plan, if you need features like POP3 support for sending emails from other apps or providers, you'll need to upgrade. You can only upload files up to 2GB in size to Mail.com.
However, if all you want to do is chat, domain names are a hilarious way to spice up your correspondence. It's perfect for a completely pointless account.
Pros
- Domain name options are plenty.
- Attachment size cannot exceed 30MB.
- Delete unwanted messages.
Cons
- The free plan's limited storage space is just 2 GB.
- POP3 is not supported.
6. Simplest to Use: Outlook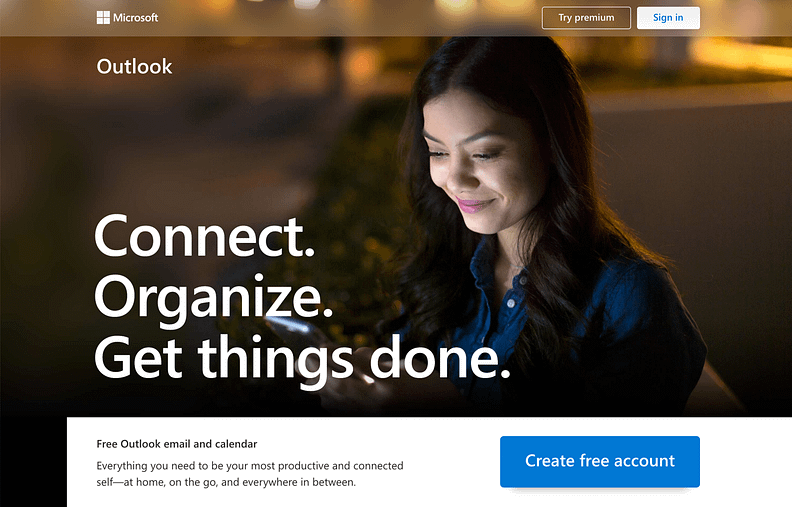 You may be familiar with Outlook if you've ever used any Microsoft product. Outlook is Microsoft's email client that works in tandem with the rest of the company's productivity software, including Word, Excel, PowerPoint, OneNote, and others.
Use it to send and receive emails; the free version gives you 15GB of storage space. Along with all of that, you also get to make use of things like custom domains, scan attachments for malware, and more.
Pros
- Quick and easy to use.
- Easily works with Microsoft Windows.
- Possibilities for synchronization.
Cons
- Limits on file sizes are very small.
- Limited in its ability to store things.
The pros and downsides of using Yahoo Mail's long history of service are inevitable. One plus is that it's dead simple to operate. Its interface is the most similar to Gmail, making it a good choice for quick email exchanges.
There are many accessible themes to choose from, allowing you to customize the look of the program to your personal preference. It's impressive that Yahoo Mail lets you save up to 1 terabyte of email and send attachments of up to 100 megabytes in size.
The problem is that it has spam problems. You may likely receive a large volume of spam as a result of the service's age and subpar spam filters. The amount of advertising is excessive, which is also disappointing. Yet despite that, it couldn't be easier to work with.
Pros
- Lots of ways to customize.
- The interface is easy to use.
- Large files can be attached.
Cons
- Spam problems.
- Quite a few ads.
8. Most Minimalist: Fastmail
Do you wish there were no advertisements at all? A service like Fastmail is ideal for this purpose. It's easy to use, and your email addresses won't be shared with third parties for advertising purposes.
The spam filters provided by Fastmail are top-notch and effectively block unwanted messages.
You'll be expected to make a contribution to the opportunity. You'll have to pay a modest amount every month depending on how much space you need, but that's still not chump change, so don't see this as such.
There's a free demo available, and we're big fans of the app's basic design. It's impressive that the entire process, from creating an account to actually using it, takes only a few seconds.
Pros
- Ad-free.
- Minimalistic user interface.
- The spam filter is excellent.
Cons
- Few options are available.
- Definitely not without cost.
9. Mail Drop
One of the best ways to avoid giving up our real email address while signing up for a dubious forum or website is to generate a fake one. This service allows us to make up our own email address, or we may use one of the options provided by the service.
MailDrop's limitation of 10 mails in storage is a major downside. The fact that we don't have to sign up for anything makes an already fantastic mail service that much more appealing.
10. Newton Mail
The popular Newton Mail offers a clean and well-organized interface for creating and managing professional email accounts. 
In addition, it has vastly improved upon its predecessors in a number of key respects, including the ability to be used across a variety of platforms and devices, the ability to receive confirmation of whether or not our messages were received and read, the ability to recall and delete previously sent emails or hibernate the reception of messages, and much more besides.
In addition, it provides details about the sender's profile, which is very useful when receiving email from an unknown sender.
While Newton isn't free, there's no need to panic for the next two weeks because there's a free trial period.